MarvelClient – Overview
IBM Lotus Domino servers are so versatile, you can easily upgrade a server to a new version, consolidate servers, add or remove web rendering without much effort. Change a few settings, install an update and you're good to go.
The problem only comes along when the IBM Lotus Notes clients try to interact with those changed servers.
How do you cope with application moves, upgrading software and controlling the client?
Get Control
It's true you CAN come up with the PERFECT customized client configuration, put it on a workstation and hand it over to the end user. Local replicas, replication formulas, icons pointing to the preferred server for a particular application.
Unfortunately, as soon as you hand over that workstation to the user, you've lost all control and ANY unintentional changes by the end user means a support call to you.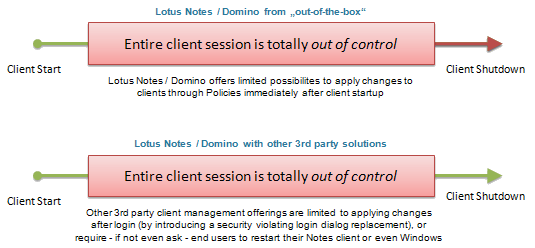 panagenda MarvelClient has everything you need to take control of your Notes client configurations — costeffectively and efficiently — across workspaces, desktop, bookmarks, ECL, replicas, replicator pages, location and connection documents, tool bars, cross certificates, and more.
Precisely define when and how often a particular action is supposed to run. Specify real-time actions to control connectivity, traffic and disk-space consumption. With its unique real-time control feature, MarvelClient addresses one of the administrator's main problems — that your IBM Lotus Notes client can only be changed or enforced in single, particular moments in time.

Get Transparency
Making server changes is easy, but their effect on the client machines is usually unpredictable for IBM Lotus Notes clients. MarvelClient helps you identify potential issues before they actually turn into a problem.
About to upgrade to a new version? How do you verify a standard install directory? Do you know that all workstations have enough memory for the new IBM Lotus Notes Eclipse client? Gain Insight into what is really out there with one constantly updated, central database.
Ensures that a client is always properly configured – not just on day 1 but 365 days a year. Use MarvelClient for recertification, consolidation and migration projects or finally remove those outdated links and icons on your IBM Lotus Notes clients.
And with up to 10,000 changes per second taking up a mere 42 Kbyte, you can gain all that transparency FAST!
Get Compatibility
MarvelClient works with virtually any version of Notes and all IBM supported operating system to control any Workspace pages, desktop icons, bookmarks, notes.ini, Toolbars, Local replicas, Locations, Connections, ECL.
Weather you have IBM Lotus Notes 5.x through 8.x, we've even go your multi-user and Eclise installs covered in any language.
Get Simplicity
One DLL and two notes.ini entries is all you need, with no local databases or server based plug-ins you get immediate control and synchronization during client startup. MarvelClient is 100% integrated with Notes without modifying the original login dialog, like those other guys. Not only that but MarvelClient is the fastest client management product available, with significantly less network traffic than other client management products.
Get Proven Reliability
Not only is MarvelClient the fastest and most versatile client management product, but panagenda also has the most client management experience in the market, with over 2 million licensed and used modules.
Enforce over 200 icons per second, change up to 3000 links per second or simply put, we take seconds to do what others do in minutes, and you surely don't want to add to that 8.x startup time.
With over 200 customers with more than 800,000 seats in over 40 countries, MarvelClient is tried and proven including in 140'000 user companies consolidating and moving 250'000 replicas from 1300 servers to 90 IBM Lotus Domino servers. But don't let that stop you from asking for references!
Get More
While policies and the redirect function in IBM Lotus Domino 8 fulfill a valid need, neither is environmentally aware, can repeat actions on demand, persistantly or based on the version of Notes, citrix client setup, day of the month etc.
Neither do policies help with migrations, consolidations or keeping location and connection documents streamlined and using the redirector required end user interaction, which means you can't decomission the old server, until all of your users have clicked on the icons pointing to it.
With only about 10% of features overlapping between IBM Lotus Domino policies, MarvelClient is the perfect complement to native Notes and Domino features.

Get Point & Click
Even though the possibilities are endless, MarvelClient doesn't' take long to setup and deploy and mere clicks of a mouse will get you complete and flexible client management including true roaming, workspace and local names.nsf backup, local replica control and a way to fool-proof your IBM Lotus Notes clients in a self-healing way.
How many support calls do you want to reduce today?
Get More Information
Want to find out more about panagenda MarvelClient? Simply contact us for a free demo or eval.
Headquarters / DC
Tel: 703-462-5435
Fax: 703-995-4738
Seattle
Tel: 253-234-5390
Fax: 703-995-4738
Philadelphia / Delaware
Tel: 571-432-7135
Fax: 703-995-4738
Call our dedicated team for help today 703-462-5435